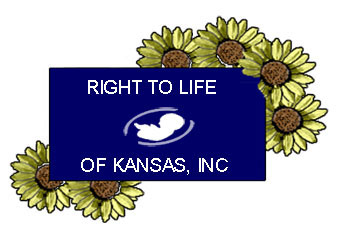 We cannot separate moral, scientific and logical truth from our actions
if we are to succeed. The truth is the truth. It cannot be ignored or
denied. For this reason, the pro-life movement, by our statements that
life begins at conception and ends at natural death, will succeed.
Information is copyright protected by Right To Life of Kansas, Inc.
Mention of a person or group or a person's or group's publication does not constitute an endorsement of all the work, publications and/or information of such person or group. Unless otherwise noted, pictures are for illustrative purposes only.

We believe that each person was created in the image of God, each with a divine purpose.






January 22, 2007
Topeka, Kansas
The students in these photographs attend St. John Vianney Preparatory School in Maple Hill. Parents and children from this school have assisted Right To Life of Kansas on January 22 of each year for over a decade. The students distribute a red rose to each of our State Senators and Representatives to commemorate the anniversary of the Abortion Holocaust.